Dog reflexology
Treat your dog to a better life
Dog reflexologist education
First educational book in the world
My new book for owners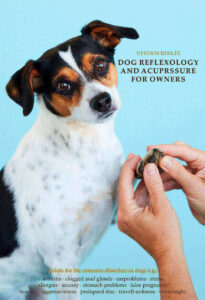 Subscribe to our newsletter
Subscribe to Sano Canis' newsletter and get advice and tips on dogs and treatments
Dog reflexology and acupressure – Vivian Birlie, Sano Canis
Dog reflexology and acupressure has become a hit for dog owners. Sano Canis offers you these services:
Online dogreflexologist education: study at your convenience! You can find all the material on videos – and watch them when it fits into your everyday life. Learn how to help dogs and cats with pain, behavioral problems and, e.g., allergies, anxiety, stomach problems, ear problems, etc.
The videos are:
– All 10 systems e.g. the digestive system- how they are treated and with the reflex areas close-up
– Yin and yang
– Meridians and acupressure points
– The 5 elements, The Chinese clock and psyche / behavior
– PDF files with slides for the videos

– Muscles controlled by the organs

– Qi and Blood

– Face reflexology

– The organs ́ function according to TCM

– Homeopathy and Bach's remedies

– Summary of diagnosis methods (TCM) and and how to treat

– Journal writing and examples of cases

– 4 video modules anatomy / physiology with veterinarian Katrine Boel – you will gain a basic knowledge of the dog's anatomy and physiology.

You will get access to each module and assignments continuously to ensure your professional level and at the speed you want to complete the education.

At Sano Canis, you get an education as a dog reflexologist with a professional approach to practicing reflexology and acupressure on dogs as well as applying other complementary treatment such as homeopathic medicine and Bach's flower remedies. Read more about the education.



 You can also buy the only textbook in the world on reflexology for dogs; "Dog reflexology and acupressure", which was published January 2017 and written by Vivian Birlie. The book describes where the dog's reflex areas are located on the paws clearly and in details, using both text and figures. The technique used on the paws is also carefully described. The different systems are gone through e.g. the nervous system and the immune system.

The reader are introduced to TCM (Traditional Chinese Medicine), which is the theoretical background for both reflexology and acupressure. Face reflexology, acupressure, treatment of the meridians and homeopathy are also gone through. Several experts within the veterinary field have contributed with the necessary western knowledge for the book.

Read more about the book.

Get my brand new book: "Dog reflexology and acupressure for owners", Novembre 2019. The book describes how you can help your dog when it is in pain, discomfort or has problems, including behavioral problems, by applying gentle pressure on reflexology and acupressure points. Read more about the book
On-line consultation: Does your dog have a problem e.g. stomach problems, aggression, home alone, back pain, allergies and so on, I can guide you through videoes and photos on-line. Please contacte me and we will help your dog together. Mail or telephone me: +45-23292959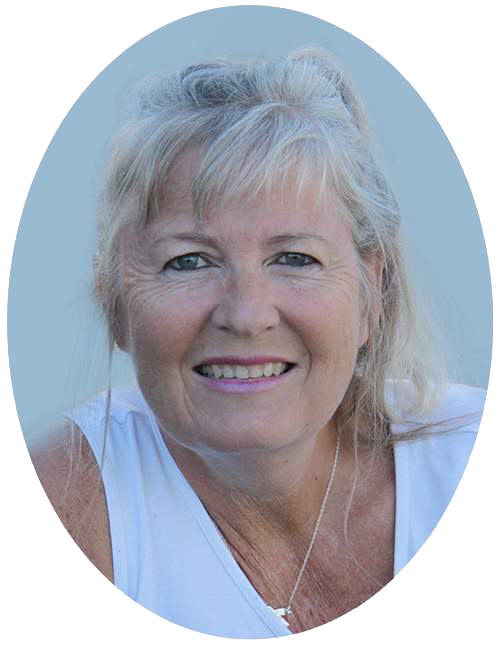 Vivian Birlie
Vivian Birlie is a reflexologist, acupuncturist and author. Since 1997 she has treated both humans and dogs. She has been teaching reflexology and acupuncture since 2000.
During her long-time as an educator, Vivian Birlie has authored a great deal of teaching material. This background, along with 16 years of experience in journalism and technical computer knowledge at the Danish Broadcasting Corporation, has made Vivian's  books possible.
Her 2 books about dog reflexology and acupressure in English are:
"Dog reflexology and acupressure" , a textbook. The Danish edition was released in August 2016 in Denmark and the English version was published in January 2017
 "Dog reflexology and acupressure for owners" (Gyldendal 2019). The Danish edition was published in January 2018. It descibes how you as a dogowner can help your dog (and as a matter of fact cats as well) with pain, discomfort and problems – including behavioral problems
Education and courses:
She teaches at her Sano Canis Institute, which offers a one-year veterinarian certified dog reflexologist education. It takes place in Denmark and England - Read more abot dog reflexology.  Vivian also gives lectures and teaches courses in human acupuncture and reflexology. On her facebook page, you can get good advice on how to relieve the most common disorders in dogs and cats.
Vivian also gives good advice on the Danish Kennel Club's website and Facebook page.
Vivian also gives lectures - contact her to hear more.