Dog with arthritic: Sally's leg saved from amputation thanks to reflexology
When I (Vivian Birlie) got Sally, a mixed breed, 6 years ago, she was estimated to be approx. 2 years. I didn't know anything about her background, but I noticed back then that she had an abnormal gait on a hind leg. But she was a happy dog who always went on long walks of up to 6 hours without it causing her any problems. Of course I wanted to know the reason for Sally's gait, so I had her x-rayed. The X-ray showed that the left hind leg was 7 cm. shorter, as there had been a fracture in the femur that had grown together completely incorrectly.
This picture shows that Sally puts her left hind leg under her when she sits.
Dog with arthritic – live a normal life
In consultation with the vet, I chose for Sally to live a normal life with my 2 other dogs. Better to have a happy and active dog who might not live that long than a sad dog who had to live a very limited life. Of course I took Sally's legs into account, so she didn't join my runs, for example, etc., and it was a must that she was not in pain. She was therefore given painkillers for a good while to see if she changed her behavior in any way, but when that was not the case, she stopped the painkillers.
Dog with arthritic – walked on 3 legs
But then 3 years ago things went terribly wrong. She didn't want to stand on the short leg, so she walked on 3 legs. That is why Sally received weekly treatments with chiropractic, acupuncture, laser and massage by a really skilled vet at the University Hospital in Copenhagen. She was kept at rest and only given very short walks. At the same time, she was given both painkillers and nerve medication, but unfortunately nothing helped – she continued to walk on 3 legs.
SCANNED AND X-RAYED
A skilled orthopedic surgeon suspected a cruciate ligament injury. He and recommended that Sally should be examined for it. She was both scanned and X-rayed in the back, hip, leg and knee. The vet had never seen anything like it: she had massive arthritis in her knee as well as a fracture, and it had all grown together completely impossibly. In addition, of course, she also had the femur fracture, around which a lot of scar tissue had gathered. As Sally's case was completely unique, her images from scan and x-rays were presented at various vet. conferences in Europe and the best in the field evaluated her images to judge what could be done. Could you possibly operate on the leg so the femur was lengthened and was a new knee an option?
Dog with arthritic – amputation
But there was great agreement that surgery could not be done with a good result, and therefore the recommendation was amputation. A terrible message – wasn't she better served by sleeping in? I researched amputation with a vet and then decided that an otherwise super healthy and happy dog like Sally should have the chance. I knew who was the best to amputate, so after a consultation with him, where he examined Sally again, I made an appointment for amputation. Before the amputation, Sally's pain had to be reduced as much as possible to avoid possible phantom pain. Therefore, she received various medications for approx. 1 month up to the amputation, but I couldn't see that it helped the pain as she was still walking on 3 legs.
Dog with arthritic -reflexology and acupressure
Sally's case was so difficult that I had not considered reflexology and acupressure at all. But inspired by one of my talented students, I started a really intensive treatment 3 weeks before the amputation. Every day she received both reflexology and acupressure, and 2 days before the amputation she walked on 4 legs and I was able to cancel the appointment. This story is so crazy and I haven't really had the guts to write about it before. You may know the feeling: "I'm almost afraid to say it out loud because what if then…".
Dog with arthritic – Sally still receives reflexology
But now 3 years have passed, and I think it's time for her story to come out. In the first year, she still received reflexology and acupressure every day, but gradually I have adapted it to how much she uses her leg. For example, if we are out walking for 2 hours, which is the maximum for her, then she gets a few days of treatment in a row. She has been on librela for half a year to see if it would change anything for her, but I have not seen any difference.
Otherwise, she now receives reflexology 2-3 times a week, and she is medication-free. She is a happy dog who is the first to run to the door to go out for a walk.
Dog with arthritic – reflexes
Sally gets professional reflexology and acupressure from me and it includes many reflexes and acupoints that I can't show you here. It's a whole education, but I can pick out the most important ones for you.
The figure above:
The muscles and bones of the back are very important, as they are negatively affected when you walk crookedly. The point – the green one – is on the inside of the hind paw: massage here for 3-5 minutes in small movements all the way along the inner bone from the toe to the ankle (knuckle).
The blue point is a knee point, which is massaged about 3-4 minutes.
The red point is the hind leg, which runs from the point of the knee up towards the lower edge of the knuckle (malleolus) on the inside. Massage for 2-4 minutes here.
Remember both hind paws for all points.
Figure below:
Outside: The next points are treated one after the other and they are located directly on the outside of and a little on top of the hind paw. Massage 2-3 minutes in each point on both hind paws.
The 2 green points: knee points – massage each for 2-4 minuttes
Red point: hip joint/hind paw: on the lower edge of the knuckle
Light blue point: hip area
Purple point: hind legs
Yellow: elbow, front leg and shoulder, which of course also gets strained at Sally.
You can read more about reflexology and acupressure and if you have any questions about Sally, feel free to contact me by email.
If you want to learn reflexology and acupressure yourself, see our courses and education here.
Learn dog reflexology
If you want to learn how to help dogs like Kiwi, join our course or education in reflexology and acupressure for dogs.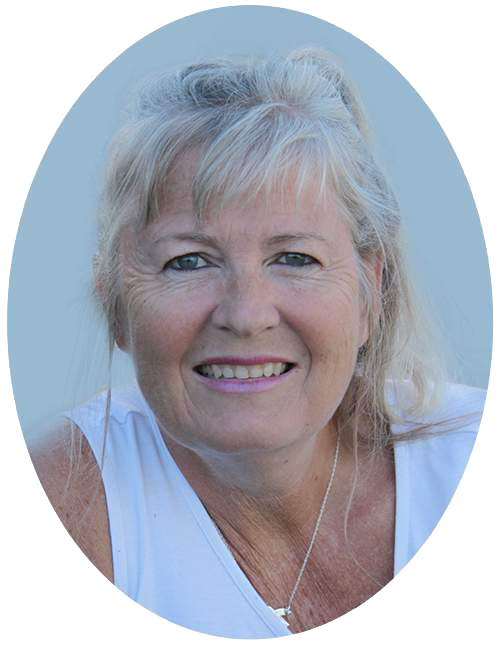 Vivian Birlie
Vivian Birlie is a reflexologist, acupuncturist and author. Since 1997 she has treated both humans and dogs. She has been teaching reflexology and acupuncture since 2000.
During her long-time as an educator, Vivian Birlie has authored a great deal of teaching material. This background, along with 16 years of experience in journalism and technical computer knowledge at the Danish Broadcasting Corporation, has made Vivian's  books possible.
Her 2 books about dog reflexology and acupressure in English are:
"Dog reflexology and acupressure" , a textbook. The Danish edition was released in August 2016 in Denmark and the English version was published in January 2017
 "Dog reflexology and acupressure for owners" (Gyldendal 2019). The Danish edition was published in January 2018. It descibes how you as a dogowner can help your dog (and as a matter of fact cats as well) with pain, discomfort and problems – including behavioral problems
Education and courses:
She teaches at her Sano Canis Institute, which offers a one-year veterinarian certified dog reflexologist education. It takes place in Denmark and England - Read more abot dog reflexology.  Vivian also gives lectures and teaches courses in human acupuncture and reflexology. On her facebook page, you can get good advice on how to relieve the most common disorders in dogs and cats.
Vivian also gives good advice on the Danish Kennel Club's website and Facebook page.
Vivian also gives lectures - contact her to hear more.