False pregnancy – dog
False pregnancy is something most owners of non-sterilized female dogs have been through. It usually starts a few months after the heat – at the time she should have given birth if she had become pregnant. It can be very annoying for both the two-legged and the dog itself, as she can change significantly.
False pregnancy – dog – Symptoms
The dog thinks she is going to have puppies and changes behavior. She may have a slightly swollen belly and enlarged mammary glands (licking them) as well as milk in the glands. She builds a nest and digs caves, collects toys and takes care of it as it were puppies. She may change appetite / water intake and possibly get few contractions-like of the abdomen. She can also become aggressive.
False pregnancy – dog – Cause
False pregnancy in dogs is mainly due to the hormone prolactin that is formed in the pituitary gland. Prolactin causes growth of the mammary glands during pregnancy and stimulation of milk production after birth.
False pregnancy – dog – How to help your dog
You can help your dog through the phase of false pregnancy faster and easier by balancing the prolactin production.
Use these 2 points from my book: "Dog reflexology and acupressure for owners":
The green point is located on the upper half of the innermost toe of both hind legs. Gently massage in circulating movements for about 1 minute on each paw.
The red point is located on top of both hind paws. Massage here in circulating movements throughout the area for 2-3 minutes on each paw.
Repeat several times daily. Make it a habit when you cuddle with your dog anyway.
You can get more tips on how to help your dog with common problems in my book "Dog reflexology and acupressure for owners". Read more here.
And if you want to help dogs and cats and work with them professionally, read about our online veterinary certified dog-reflexology education here.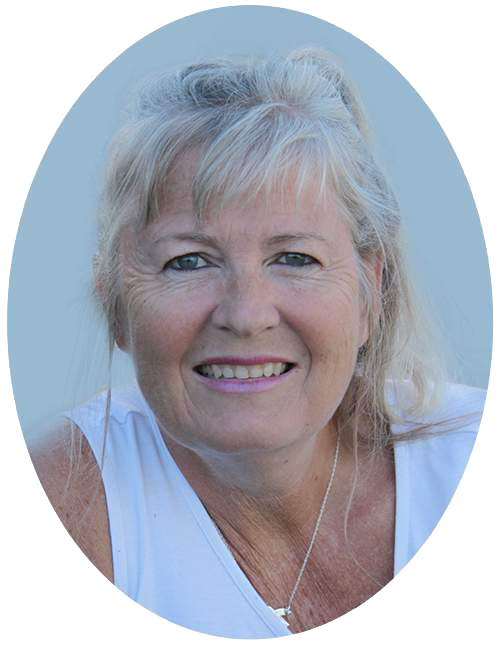 Vivian Birlie
Vivian Birlie is a reflexologist, acupuncturist and author. Since 1997 she has treated both humans and dogs. She has been teaching reflexology and acupuncture since 2000.
During her long-time as an educator, Vivian Birlie has authored a great deal of teaching material. This background, along with 16 years of experience in journalism and technical computer knowledge at the Danish Broadcasting Corporation, has made Vivian's  books possible.
Her 2 books about dog reflexology and acupressure in English are:
"Dog reflexology and acupressure" , a textbook. The Danish edition was released in August 2016 in Denmark and the English version was published in January 2017
 "Dog reflexology and acupressure for owners" (Gyldendal 2019). The Danish edition was published in January 2018. It descibes how you as a dogowner can help your dog (and as a matter of fact cats as well) with pain, discomfort and problems – including behavioral problems
Education and courses:
She teaches at her Sano Canis Institute, which offers a one-year veterinarian certified dog reflexologist education. It takes place in Denmark and England - Read more abot dog reflexology.  Vivian also gives lectures and teaches courses in human acupuncture and reflexology. On her facebook page, you can get good advice on how to relieve the most common disorders in dogs and cats.
Vivian also gives good advice on the Danish Kennel Club's website and Facebook page.
Vivian also gives lectures - contact her to hear more.