Dog reflexologist education
What can the education give you?
Our dog reflexology education makes you qualified to help dogs and cats with pain, discomfort, behavioral problems and other problems such as allergies, anxiety, stomach problems, ear problems and much more.
You will achieve a professional approach to practicing reflexology and acupressure on dogs and cats as well as applying other complementary treatment such as homeopathic medicine and Bach's flower remedies.
Where can I study dog reflexology?
You have 2 options:
In Manchester:

We are now proud to offer you the possibility to study in England. The education is very similiar to the one in Denmark. We combine 9 E-learning subjects and 3 weekends of teaching in Manchester.

Read more about the education in Manchester here.     

In Denmark: 

  The education is divided into 9 E-learning subjects and lessons in Denmark. All together you will be in Denmark 3 times. The first part will be 2 days in Denmark, the second part is 3 days and the last time is for the oral examination.

Read more about the education plan here.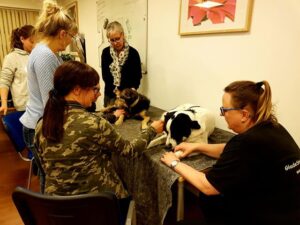 The dog reflexology education
The dog reflexology education takes about a year and is a combination of lessons in the class at the institute and E-learning. The education contains:
The teaching is a combination of the theory and practice in which students practice reflexology systems on dogs and meridians. Vivian Birlie teaches
Veterinarian Katrine Boel teaches E-learning: You will gain a basic knowledge of the dog's anatomy and physiology. With E- learning you can read whenever it pleases you!
You will learn about Traditional Chinese Medicine (TCM), which is the theoretical background for reflexology and acupuncture. This combination of knowledge from the West and the East   has proved to be able to help dogs with physical as well as behavioral problems
The book "Dog reflexology and acupressure" is the first book in the world regarding reflexology on dogs, where the dog's organs and other areas of the body are illustrated anatomically and technically correct. The book is authored by Vivian Birlie and contains clear and precise illustrations compiled by Vivian Birlie with consultancy services in anatomy/physiology from veterinarian Zita Birlie. This book is also the syllabus and the basis for the education
As a student, you will get an insight into the structure and functions of each organ and organ system, both in detail and in a greater perspective
It is very important that you practice between the lessons, as reflexology is a craft. Our experience shows that you should practice at least on one dog per week throughout the education to obtain sufficient knowledge and pass the exams.
The education in Manchester – starts 4th April 2020
Please see the calendar og the educationalplan here. 
The education in Denmark – starts 18th April 2020
Please see the calendar og the educationalplan here. 
Price: 2700 EUR
The Institute offers:
Lectures by the author of the book
Highly qualified external educator in anatomy, physiology and pathology: Veterinarian Katrine Boel
Assignments on the entire syllabus
During the education, free supervision via mail is provided
The institute's certificate
Registration on the institute's website (list of practitioners for dog owners)
Small groups, which ensure optimal learning
The education ends with:
A written exam consisting of multiple choice and explanatory questions
A written assignment/case with a dog and its owner
An oral exam where you will defend the written assignment and be examined in the syllabus
The price of the education: 2700 Euro
Lectures in Denmark takes place at;
Havnegade 22C,  3600 Frederikssund, Denmark
Lectures in Manchester, England takes places at;
Entheos Holistic Therapies, 14, Clover Croft, Brooklands Sale, Greater Manchester, M33 3PU
We offer our help finding accommodation for you.
Please contact us if you are interested in taking the education in English.
Vivian Birlie:
+45 23 29 29 59
vivian@sanocanis.dk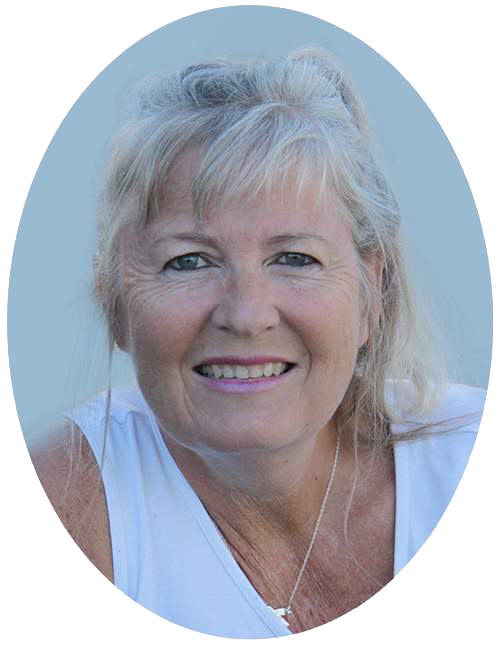 Vivian Birlie
Vivian Birlie is a reflexologist, acupuncturist and author. Since 1997 she has treated both humans and dogs. She has been teaching reflexology and acupuncture since 2000.
During her long-time as an educator, Vivian Birlie has authored a great deal of teaching material. This background, along with 16 years of experience in journalism and technical computer knowledge at the Danish Broadcasting Corporation, has made Vivian's  books possible.
Her 2 books about dog reflexology and acupressure in English are:
"Dog reflexology and acupressure" , a textbook. The Danish edition was released in August 2016 in Denmark and the English version was published in January 2017
 "Dog reflexology and acupressure for owners" (Gyldendal 2019). The Danish edition was published in January 2018. It descibes how you as a dogowner can help your dog (and as a matter of fact cats as well) with pain, discomfort and problems – including behavioral problems
Education and courses:
She teaches at her Sano Canis Institute, which offers a one-year veterinarian certified dog reflexologist education. It takes place in Denmark and England - Read more abot dog reflexology.  Vivian also gives lectures and teaches courses in human acupuncture and reflexology. On her facebook page, you can get good advice on how to relieve the most common disorders in dogs and cats.
Vivian also gives good advice on the Danish Kennel Club's website and Facebook page.
Vivian also gives lectures - contact her to hear more.