First educational book in the world
"Dog reflexology & acupressure"
Books about reflexology for humans have been known for many years. Now this book makes it possible to gain knowledge about reflexology for dogs as well. The book describes the technique and where the dog's reflex areas are located on the paws. All content is carefully described and complemented with illustrated figures. The dog's urinary passages, nervous system, digestion, senses, respiratory passages, immune system, circulation, detox system, endocrine system, bones and muscles are some of the content you will find described in the book.
Furthermore, the book provides practical tools to support reflexology treatment such as face reflexology, acupressure, treatments of meridians and homeopathy. In order to understand the location of the reflex areas on the paws, the reader is guided through the principles of human reflexology and how the reflex areas on humans have come to be. It is then shown why and how this knowledge can be transferred to dogs, and how the reflex areas are adjusted to fit the dog's anatomy and physiology i.e. the reflex areas are mapped out with regard to the differences between humans' and dogs' anatomies. Several experts in the veterinary field have contributed to the book with the necessary western knowledge. The reader is introduced to TCM (Traditional Chinese Medicine) which constitutes the theoretical background for both reflexology and acupressure. It consists of the 5 Elements, meridians, acupressure points, yin and yang, and mental aspects including the dog's behavior. Vivian Birlie, a member of the Danish Author's Society, is an acupuncturist and reflexologist, and has treated both humans and dogs since 1997. As a longtime educator, she has authored a great deal of teaching material. This background along with 16 years of experience in journalism, technique and web at the Danish Broadcasting Corporation, has made this book possible. The book forms the basis of the education for dog reflexologists at Sano Canis, Institute for Reflexology for dogs – educational institution and treatments.
"Tryg & Tilfreds" – a guide to help your dog or cat yourself
Tryg og tilfreds was published January 2018 at the oldest and finest publisher in Denmark, Gyldendal. 8 months after it was published it had sold so much that Gyldendal needed the next print (second edition).
"Tryg og tilfreds" means "Safe and Satisfied". It describes how, you can help your dog when it has pain, discomfort and problems – including behavioral problems, with gentle touches in reflexology and acupressure points. The book is richly illustrated with an indication of the location of the points and an easily accessible and clear text supports the images. For example, there are points for allergies, back problems, fear and aggression. The book also contains a wellness program for the dog owners who have healthy dogs.
I have had so many wonderful responds from dogowners, who have used my book on their dog with great succes eg the anal gland point so that the dog does not need to go to the vet anymore and get them emtied. For excample Vickeys owner who wrote:
"I got my stray dog, Vickey, from Bosnia. She had diarrhea and clogged anal glands for a long time after I got her. Even when her digestive and stool came in order, she continued to have problems with the anal glands. I had to take her to the vet very often because they were inflamed and clogged and had to be emptied. Vickey screamed with pain every time. Then I bought the book Tryg og tilfreds. When I first massaged the anal gland point, Vickey's anal glands were very full and she had wounds in the area near them because she had licked so much because they hurt so badly. When I had massaged for 3 minutes, the anal glands emptied themselves! I continued to massage and for the next 3 days I massaged 3 times a day for 10 minutes with some breaks and then twice a week and then once a week and now we just do it sometimes  because Vickey likes it. She doesn't have any problems with her anal glands any more."
And Vickeys owner is not the only one who the book has helped!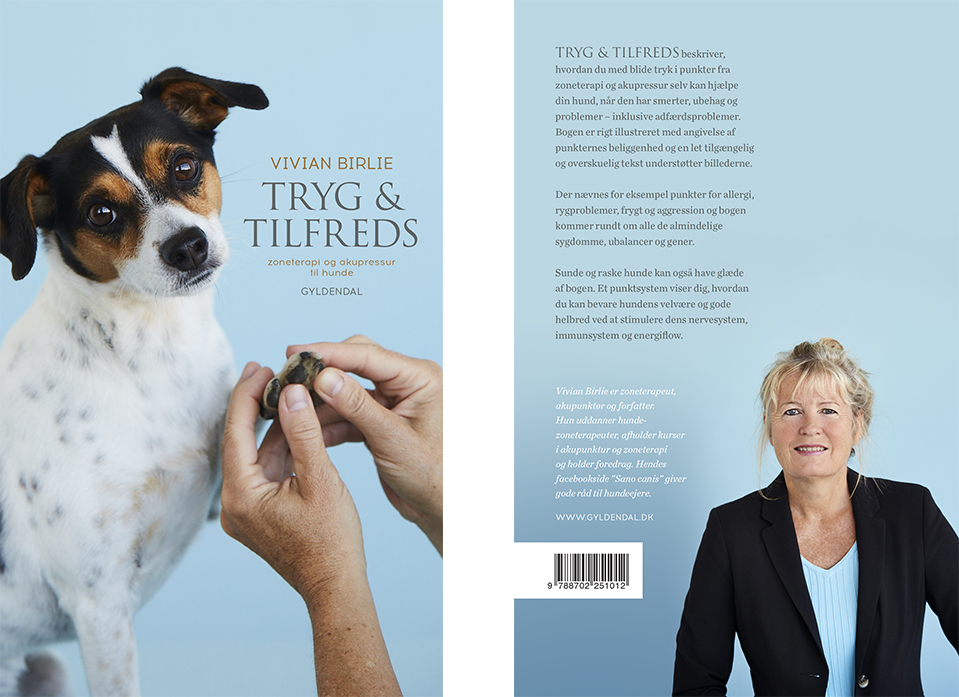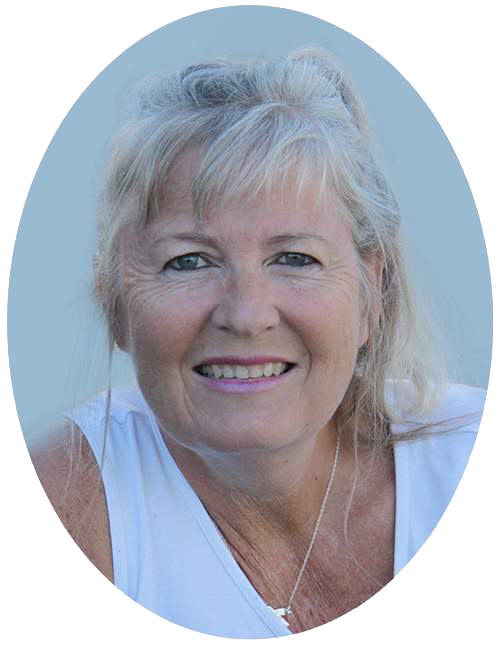 Vivian Birlie
Vivian Birlie is both reflexologist and acupuncturist. Since 1997 she has treated both humans and dogs. She has been teaching reflexology and acupuncture since 2000.
During her long-time as an educator, Vivian Birlie has authored a great deal of teaching material. This background, along with 16 years of experience in journalism and technical computer knowledge at the Danish Broadcasting Corporation, has made Vivian's newest book, "Dog reflexology and acupressure" possible. The Danish edition was released in August 2016 in Denmark and the English version was published in January 2017.
In January 2018  she published "Tryg og tilfreds" which descibes how you as a dogowner can help your dog (and as a matter of fact cats as well) with pain, discomfort and problems – including behavioral problems.
Vivian teaches at her Sano Canis Institute, which is the only institute in the country which offers a one-year veterinarian certified dog reflexologist education.
On her facebook page you can get good advice how to relieve the most common disorders in dogs and cats. Vivian also gives good advice on the Danish Kennel Club's website and Facebook page.
Vivian also gives lectures - contact her to hear more.