My dog has shoulderproblems
My dog has shoulderproblems
If your dog has shoulderproblems, then look:
When you work at this point, you stimulate the tendons, muscles, bones and joints in your dog's shoulder. It is a good idea to work frequently on the point if your dog has the wrong foot position, e.g. turns the paw outwards on one or both front legs. In the long term, it causes weakness and arthritis in the shoulder,  which in turn can cause your dog pain. The same applies if your dog has sunken front paws; The dog sinks back a little in the front legs when standing. It also puts a strain on your dog's shoulder over time.
When the dog is in pain, it will try to compensate and thus strain the muscles incorrectly. By using the point, you can reduce the pain and thus relieve and help the muscles, because you promote the healing process by increasing the circulation of blood, lymph and energy.
Help dogs with shoulderproblems
You have several options for helping your dog if he has shoulder problems:
Book an online consultation on +45-2329 2959 or send a mail– you get help online with videos and photos. Professional reflexology, counseling and instruction in home treatment.
Have our online course 
Have our veterinary certified education and become a professional dog reflexologist
Learn dog reflexology
If you want to learn how to help dogs like Kiwi, join our course or education in reflexology and acupressure for dogs.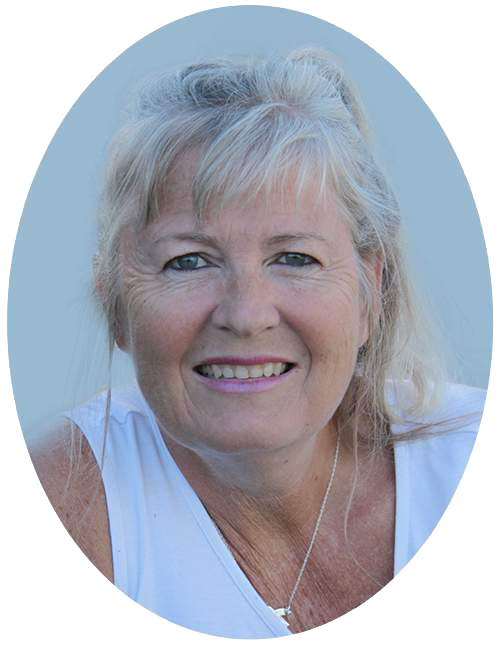 Vivian Birlie
Vivian Birlie is a reflexologist, acupuncturist and author. Since 1997 she has treated both humans and dogs. She has been teaching reflexology and acupuncture since 2000.
During her long-time as an educator, Vivian Birlie has authored a great deal of teaching material. This background, along with 16 years of experience in journalism and technical computer knowledge at the Danish Broadcasting Corporation, has made Vivian's  books possible.
Her 2 books about dog reflexology and acupressure in English are:
"Dog reflexology and acupressure" , a textbook. The Danish edition was released in August 2016 in Denmark and the English version was published in January 2017
 "Dog reflexology and acupressure for owners" (Gyldendal 2019). The Danish edition was published in January 2018. It descibes how you as a dogowner can help your dog (and as a matter of fact cats as well) with pain, discomfort and problems – including behavioral problems
Education and courses:
She teaches at her Sano Canis Institute, which offers a one-year veterinarian certified dog reflexologist education. It takes place in Denmark and England - Read more abot dog reflexology.  Vivian also gives lectures and teaches courses in human acupuncture and reflexology. On her facebook page, you can get good advice on how to relieve the most common disorders in dogs and cats.
Vivian also gives good advice on the Danish Kennel Club's website and Facebook page.
Vivian also gives lectures - contact her to hear more.